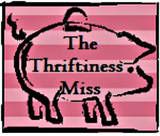 Yippie! I've won the much coveted Liebster Award! I'm so honored to have been nominated for this award by the homemaking genious
The Thriftiness Miss
. Her blog is amazing! So many clever recipes and crafty projects - an inspiration for me (I'm not so crafty). Need some organizational or budgeting ideas? Visit her blog; you won't be disappointed!
Here's how the Liebster Award works.
Once a blogger is fortunate enough to be recognized, here are the rules of passing on this encouragement to others:
1) Thank your nominator (and link back!).
2) Nominate 5 other blogs, with less than 200 followers and post a comment on each blog letting them know they have been given the award.
3) Copy and paste the award onto your blog.
Now, I don't want to just nominate any old blog for the Liebster. I want to keep up the integrity of the award. So, I really want to take this opportunity to feature my most favorite blogs. I TOTALLY recommend the following blogs for fabulous advice and content.
First up, one of my most favorite new blogs,
Tiny Mitten Secrets.
Leah is the mother of two beautiful children and she shares such a sweet voice about parenting. She features adorable snapshots and tear-jerking "love letters" to her kids. I love transparency in mommy bloggers, so I think Leah's blog is a great resource for "real" momsies. And, I'm not just saying these nice things because she recently featured
my advice
on her blog. She really is awesome.
Next awesome blog,
Child ADHD - Raising a Child with ADHD.
As a psychologist, I can't resist sharing this blog. The author, Stacy, is a mother of a child with ADHD and has worked in psychology, and she has definitely done her research. If you have a child with ADHD or are concerned your child might have ADHD, you've got to check out this blog!
My next nomination,
Mom's Little Running Buddy
! I used to be a serious runner. I'm talking half marathons, marathons, the whole nine yards. Now, I can't seem to get my booty out of bed to even run a mile. So, I love the inspiration that this bloggy mom shares! I really really want her to guest post on my site, so I'm hoping this award nomination will help!
Next up,
For Their Tender Hearts.
Sadie is a blogger after my own heart. She is a Christian momsie that writes beautifully about her spiritual journey as a mom. She is so vulnerable and transparent, I just love her. Beautiful, sweet blog.
Finally, I will break the rules of the Liebster Award to nominate a great blogging find,
Books That Heal Kids.
Roxanne has more than 200 followers already, but I just can't resist promoting her blog! She is an elementary school counselor that shares some amazing recommendations for bibliotherapy. And, I LOVE bibliotherapy! I can't wait to buy and read her recommendations!
Congrats fellow Leibster Blogs!