It is that time of year again for the kiddos to put on their cool back-to-school clothes, load up their backpacks, and jump on the school bus. Some exhausted parents will send them off with smiles and cheers. Others, like myself, are a little less eager for school to begin. Although Jr. isn't really in "school" yet, I refer to daycare as school because it just feels better. And, because I work for a public school district, the beginning of the school year means back to work for me. Saying goodbye to summer is going to be so hard!
The beginning of school can inevitably cause some anxiety for many kids. Older kids worry about having the right clothes, finding their classes, meeting new friends, and maybe even making good grades. Young children, on the other hand, can really struggle with separation anxiety. You know the kindergarten kids that cry the entire first day in school? I was one of these kids. I really didn't know mom was dropping me off to start school, I thought we were just going to enroll. So, when mom left me in a strange room with a strange group of people, I lost my mind. I cried all day. My sister, who was in first grade and much more extroverted than I, actually was called down to the kndergarten class to help console me. I think I stopped boo-hooing by the second week of school.
That was a really hard experience for me. And, because I remember that so vividly, I have great empathy for the little ones who completely go berserk the first few days of school. As the psychologist in the building, I'm often asked to help with these children, especially when their resistance becomes severe or disruptive.
If a child is still resisting school by crying, throwing tantrums, etc. after a few days or weeks, there is a fairly simple intervention I suggest. First, parents must manage their own anxieties about leaving their child and deliver a clear message that the child must attend school. Many parents will have to draw a boundary about what constitutes a good reason for staying home (fever), otherwise a child will mysteriously develop any and all maladies that might convince mommy they need to stay home with her. Second, consider rewarding "brave" school attendance. For instance, maybe a child can earn an ice cream cone if she is able to go into the school without clinging and crying. Third, prior to school starting, discuss with your child how separation is temporary. Give your child details about when and how they will be dropped off, their schedule for the day (if you know it), and how and when they will get home. Read a book together such as Nancy Tillman's "Wherever You Are, My Love Will Find You," Audrey Penn's "The Kissing Hand," or Patrice Karst's "The Invisible String." These books all show how a child can feel connection with their parent, even when they are separated.
To celebrate back-to-school, and to prepare a lucky mom for healthy separation, I'm giving away three of my favorite books! Nancy Tillman's "Wherever You Are, My Love Will Find You."
"I Love You All Day Long," by Francesca Rusackes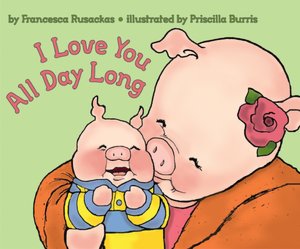 and a treasure for Christian families, "If Jesus Walked Beside Me," by Jill Roman Lord.
One lucky winner will win all three books! Just enter the raffle below in as many ways as you can, and a winner will be chosen on August 31, 2012.
a Rafflecopter giveaway